Ruslan Sergienko
A full range of orthopedic services, from diagnosis to full recovery
Ruslan Sergienko
25 лет хирургической практики | 6 700 операций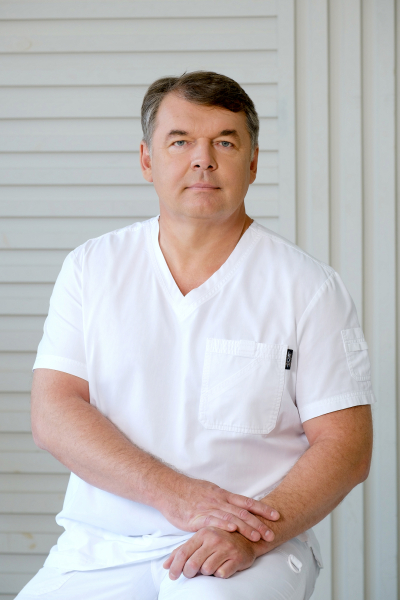 Orthopedic traumatologist of the highest category, leading specialist of the Medical Center, Doctor of Medicine
Education and seniority

1994-graduated from the Bogomolets National Medical University.


1994-2003-worked in the private center of orthopedics and Traumatology "Dr. Linko Clinic".

2003-2012-clinic of microsurgery and reconstructive surgery of the upper limb of the Institute of Traumatology and orthopedics of the National Academy of Medical Sciences under the supervision of Professor S. S. Strafun.

Since 2011-head and leading specialist of the Medical Center "modern orthopedics", since 2020 renamed the Center "Orthopedics of Ruslan Sergienko".

Since 2020-founder and leading teacher of the school of arthroscopy Ruslana Sergienko.


He studied knee, shoulder, hip arthroscopy and endoprosthetics in Hungary (1999), Spain (2002, 2009, 2011), the Netherlands (2003), Austria (2007, 2011), Great Britain (2009), France (2008, 2009, 2010, 2012, 2013, 2015), Germany (2010, 2011, 2014, 2016).


Specialization

Conservative treatment of knee and shoulder joint pathology using new technologies and ultrasound navigation.
All types of arthroscopic operations on the shoulder and knee joints.
Complex reconstructive surgeries, including osteotomies.

Achievements:
one of the first in Ukraine to introduce arthroscopic operations (through several punctures on the skin) of the shoulder, knee and hip joints in wide practice
performs the operation Laterza arthroscopic
he is the author of more than 50 scientific artickles
3 patents for inventions
author of the book "Adhesive capsulitis of the shoulder joint"
PhD thesis on the topic: "Adhesive capsulitis of the shoulder joint"
doctoral dissertation on "Arthrosis of the shoulder joint"
Advantages of treatment in Orthopedics by Ruslan Sergienko
10 years on medical services in Ukraine

> 25 years of experience with leading specialists

Anna Vovchenko and Ruslan Sergienko are recognized opinion leaders among the orthopedic traumatologists

> 150,000 consultations were held

> 7,500 surgeries were performed

All types of pain management

The operating unit is equipped according to international standards

Availability of all medicines and supplies

Single rooms, equipped with the characteristics of orthopedic patients

Three meals a day

Postoperative rehabilitation by certified specialists

Pricing Transparency